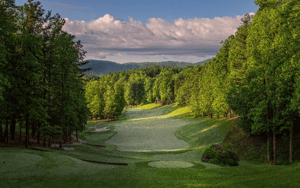 At first glance, looking down from the first tee box at the majestic grandeur of Champion Hills, carved deep into North Carolina's historic Blue Ridge Mountains, one might assume this course was meant for only the most seasoned of players. But upon closer inspection, you'll find this Tom Fazio-designed "player's course" is just that—highly playable.
Head Golf Professional Mike Steele describes it as that sweet spot between challenging, learnable, and infinitely playable. "We take a lot of pride in the fact that our course was designed for all players—not just the pros. It's extremely welcoming for low handicappers and newcomers alike."
Newcomers, seniors and players in-between all call Champion Hills home
Steele goes on to explain that you can expect to find, "up to 5 sets of tees, and a combination of those, for both men and ladies of varying abilities," helping make the course friendlier or more challenging terrain depending on your handicap.
The course also features "combo tees" that are anywhere from 15 to 30 yards in front of forced carries, say, a ravine or lake, essentially eliminating those carries for a higher handicap or senior golfer. Added to that, players of all levels can determine what set of tees best suits their game.
Go Off-Tee
When coaching beginners, Steele often starts them in the middle of the fairway. "Most courses don't like you to do that," he says. Not so at Champion Hills. When he's coaching beginning players, Steele often picks a spot, say, 200 yards out, and creates a Par 4 for them. He encourages seniors to do this as well. In his eyes, it's all about adapting the course to make it accessible, level-appropriate and fun.


Steele is also quick to mention the elevated tee boxes. "The fairways, to the untrained eye, may seem narrower, especially for those newer to the game. But once you get down there, they're actually quite forgiving." Even if you miss the fairway, the ball will naturally slope back toward it, thus helping you avoid adding extra strokes to your score.


You Can Always Find A Game
Steele is quick to point out how easy it is to find a game, something he hasn't seen at many of the other clubs where he's worked. "At Champion Hills, you can simply show up and get paired with players who have a similar handicap, so you never have to rely on finding three other people to play with. Simply sign up and you're done." Adds Steele, "It's also a great way to meet other members, especially if you're a seasonal or weekend player.
And if you're looking for more opportunities to see how your game measures up against your peers, Champion Hills has a club championship where all players are flighted based on ability. Here, you'll get a fair chance to compete and feel challenged at your level.
Where Everybody Knows Your Name
Steele adds that he thinks the members at Champion Hills make the golf as playable as the course does. "Everyone's really friendly. At other courses I've been at, members seem to care about what your background is. And people just aren't as into that here. It's very friendly. The camaraderie is as good as I've ever seen it—just laid back and casual."