Champion Hills, a private golf community where Members celebrate friends, neighbors, camaraderie, and of course, a great game of golf. They also share a passion for enriching the lives of others.
There is no greater joy, nor greater reward than to
make a fundamental difference in someone's life.
– Mary Rose McGeady
Champion Hills' Members and residents have embraced this sentiment wholeheartedly.
Our employees, the driving force of our success.
To maintain its premier private club status and the level of service expected in such an esteemed private golf community, Champion Hills employs 100 employees – some seasonal, some full-time, some administrative, some grounds, some just graduating high school, and some nearing retirement. These are the people who make the magic happen; they are the foundation of this incredible community.
So, to give back to our employees, regardless of the job description, age, or pay, after 60 days, all staff are eligible for the same benefit, enrollment in the Champion Hills Employee Scholarship Fund.
The idea began almost a decade ago after a Member asked an employee if he planned to return to college in the fall. When the employee replied he couldn't afford it, inspiration took hold. From
there, a group of Members established the Employee Scholarship Program. Their goal was simple, work together to raise funds that would provide financial assistance to employees and family members wishing to pursue higher education degrees and professional training that, in turn, enables them to improve their career prospects.
Today, support for the Employee Scholarship Program is stronger than ever. Through a combination of events, silent and live auctions, golf and tennis tournaments, a gourmet dinner, and cash donations, this year's efforts raised more than $120,000., setting a record of 19 endowment recipients. Since its inception, 84 people have received over $600,000 in education awards.
"This was my first experience with the employee scholarship event," says Alan Deck, General Manager and COO of Champion Hills. "It warms hearts to see our members work together to fund the future of our employees."
Has this program made a difference in the lives of its recipients?
Meet four-time recipient Remi Shook. When Remi came to Champion Hills, she had yet to learn of the opportunity ahead. Now embarking on her senior year at Elon, she states,
"Working at Champion Hills has been an amazing experience. The members generously give back in a way I can't appreciate enough. It is with immense pride and gratitude that I accept this Employee Scholarship one last time. This scholarship is what gets me through school. Each time I'm here you shower me with unwavering support, which fuels my passion to continue to work hard and learn more. Thank you so much for supporting me financially through school as well as supporting me the way my own family would. I can't wait for the day that I get to support someone the way you all have done for me."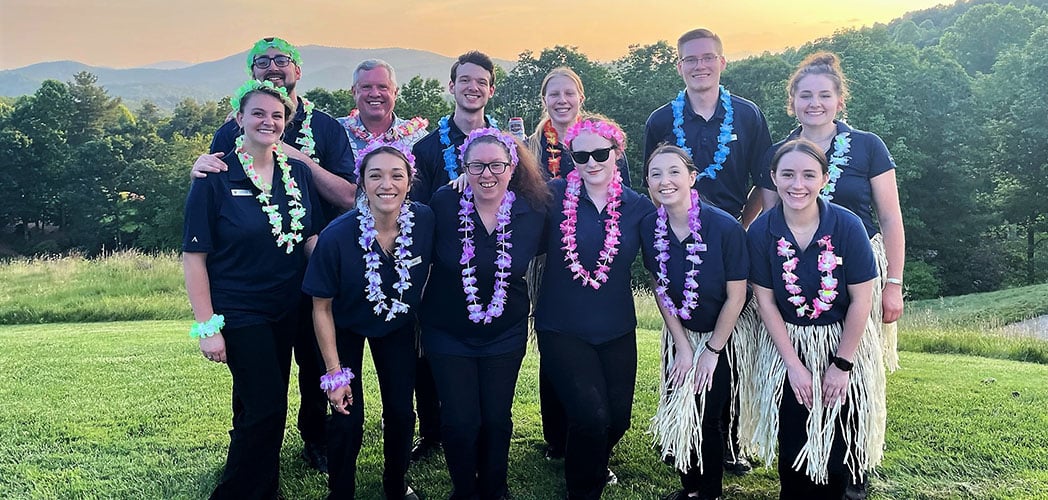 We sincerely thank our Members and residents for your continued dedication to helping our employees and their families achieve their education and career goals. Your efforts have made a profound difference in the lives of so many.
---
"The greatness of a community is most accurately measured by the
compassionate actions of its members."
– Coretta Scott King