This just in: Henderson County is not only the "Healthiest County" in Western North Carolina, it's one of the healthiest in the entire state according to the 2020 County Health Report from the Robert Wood Johnson Foundation.
Hey, this is the home of the North Carolina Apple Festival we're talking about, here, and you know what the doctor says about apples. Henderson County was No. 3 in the state, moving up from the No. 5 spot in 2019.
"It's a much-deserved ranking, as the residents, businesses and leadership of Henderson County go above and beyond when it comes to a creating a healthy environment," says Champion Hills General Manager and Chief Operating Officer Dana Schultz. "Health and wellness are major pillars of our programming for both the club and the community."
In honor of our county's latest accolade, here are eight ways to stay fit, centered and in pursuit of a long and fulfilling life at Champion Hills.
1. Hiking
Hiking is a popular pursuit for many of our members and residents. After all, if you live in a Blue Ridge Mountain community, the great outdoors tend to pulse through your veins.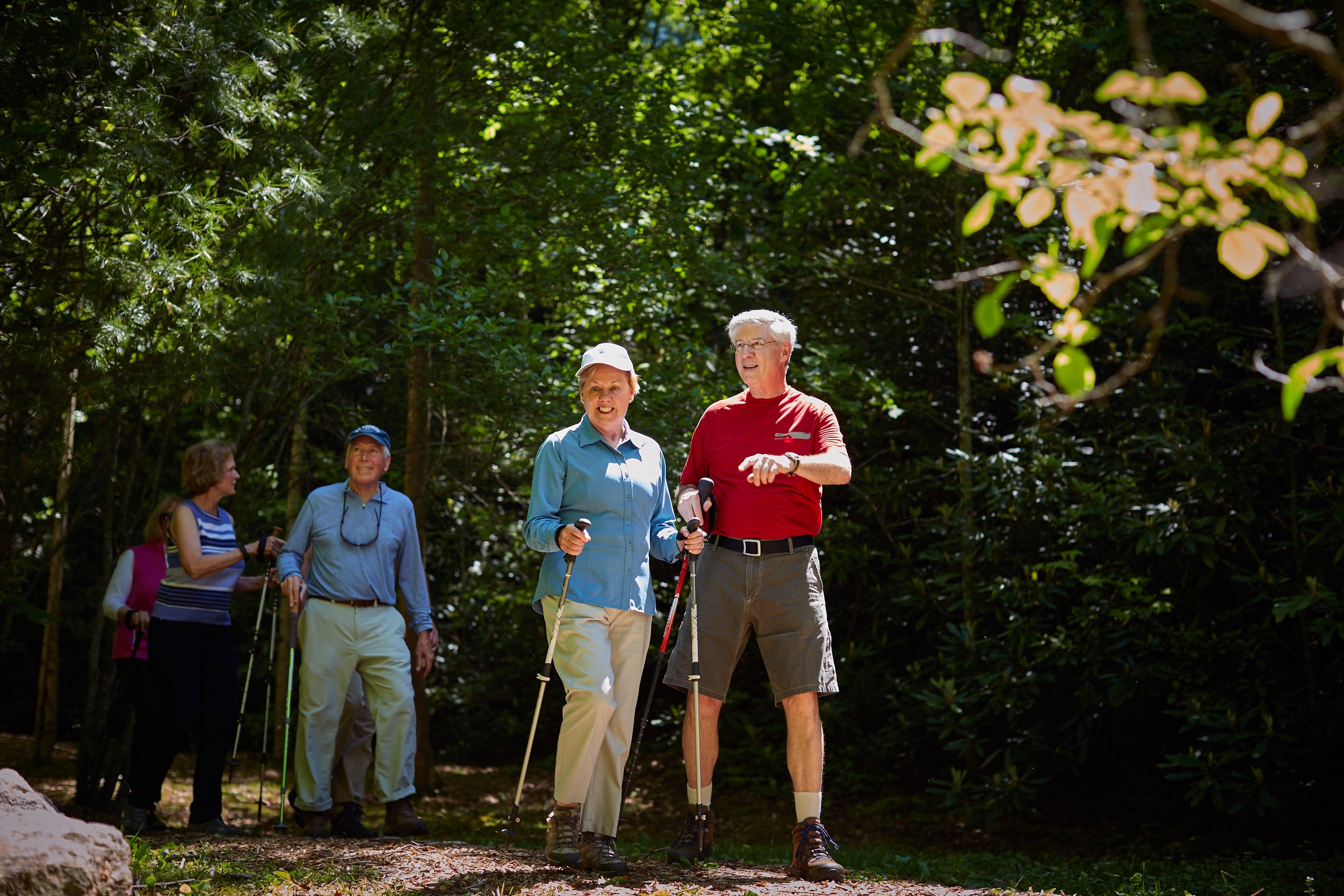 There are more than 18 miles of hiking trails on property, ranging from 0.3 to 4.5 miles, as well as a hiking group that meets each Monday to explore area trails together. In 2017, Champion Hills received Real Estate Scorecard's "Bliss Award" for "Best Hiking Community of the Year."
Off property, the hiking options are literally endless. The Pisgah and DuPont Forests are just a short drive away, as are the hundreds of trail networks connected to the Appalachian Trail.
The beautiful, and approachable, summits and lakes of Upstate South Carolina are only a few miles away as well, with Caesars Head and Jones Gap being two local favorites.
2. Biking
The Greenville, S.C. to Asheville, N.C. corridor is one of the most popular cycling regions in the U.S. That goes for both road and mountain biking, as two-wheel enthusiasts come from all over North America to peddle through our highways, byways and trails.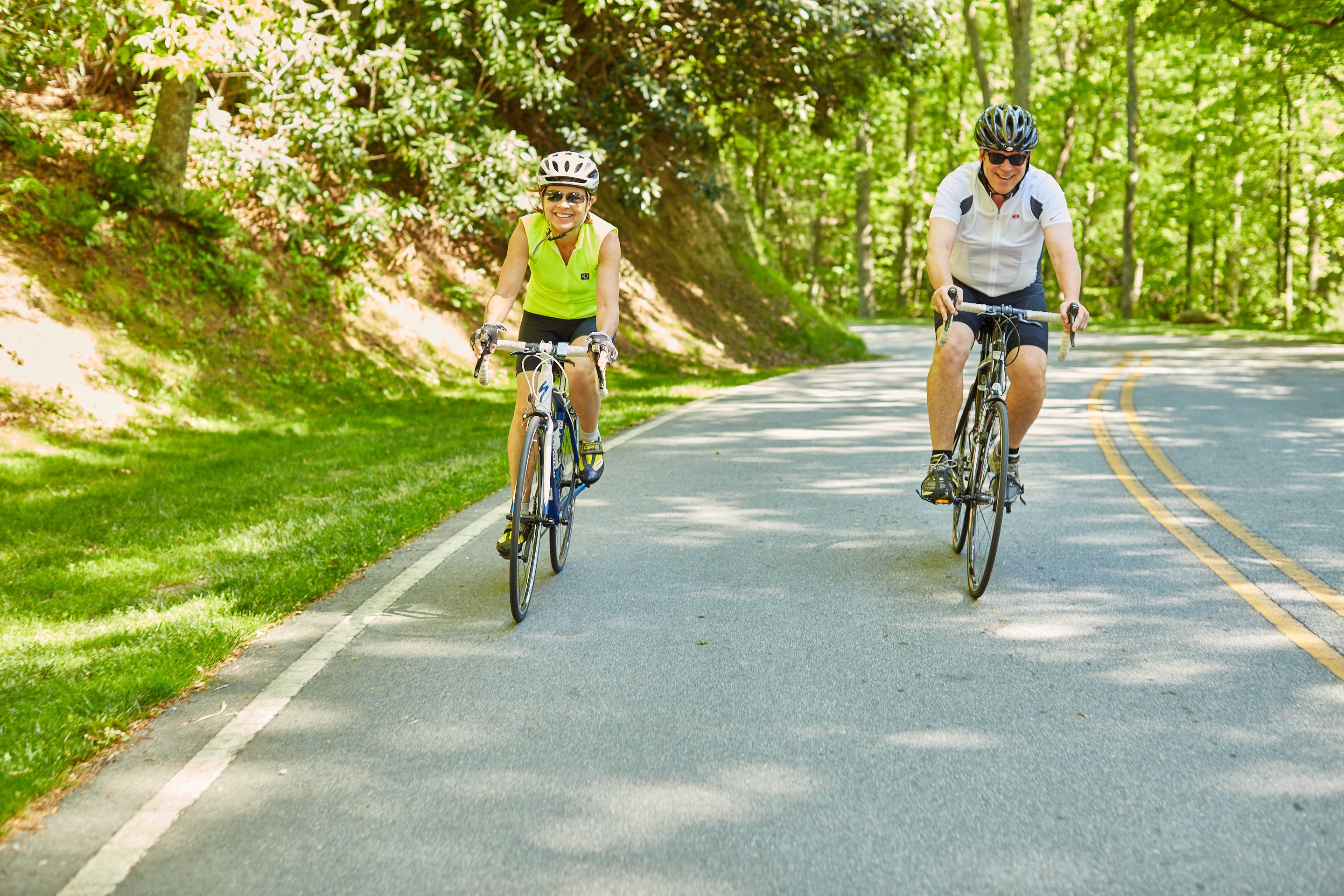 The Ride Kanuga Mountain Bike Park, a brand new, top-of-the-line trail destination founded by world champion downhill racer Neko Mulally, is just a few minutes away. Hendersonville's 3.5-mile Oklawaha Greenway is perfect for a leisurely ride, and the 18.5-mile Ecusta Trail is a proposed multi-use path connecting Hendersonville to the Ecusta paper mill in Brevard.
Forty-five minutes south, Greenville County's 22-mile Swamp Rabbit Trail for walking, running and biking runs from the quaint town of Travelers Rest south through Furman University and downtown to Conestee Park.
3. Fitness
Champion Hills' Wellness Center and Pool Complex is located adjacent to our mountain lodge-style clubhouse. Recently renovated and expanded, it houses the latest cardio and strength training equipment, a spacious room for yoga, spin, Pilates and other group classes.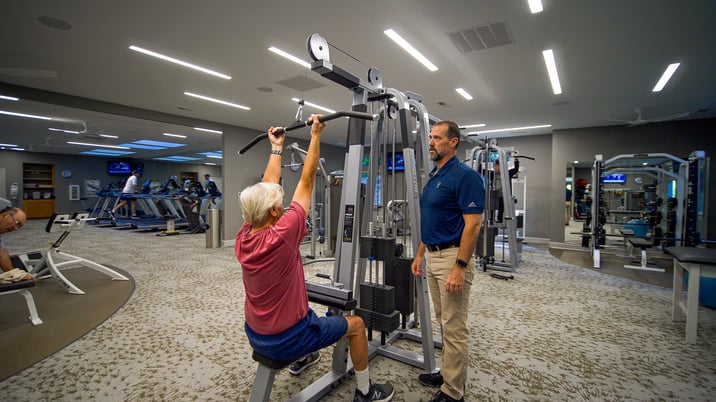 A year-round, private community and club, members also take to the event lawn by the clubhouse for yoga and other specialized fitness classes. Or, simply walking about the community with its beautiful rolling hills can provide all the work out you'll need. And two certified trainers are available to help you design your own fitness program to meet your personalized goals.
4. Tennis
As dyed-in-the-wool tennis players like to say, tennis is an ace of a workout. A high-intensity racquet sport, this timeless racquet sport burns between 400 and 1,000 calories an hour, putting it on the level with running. Additionally, it uses almost every muscle in the body, ideal for strength training and conditioning.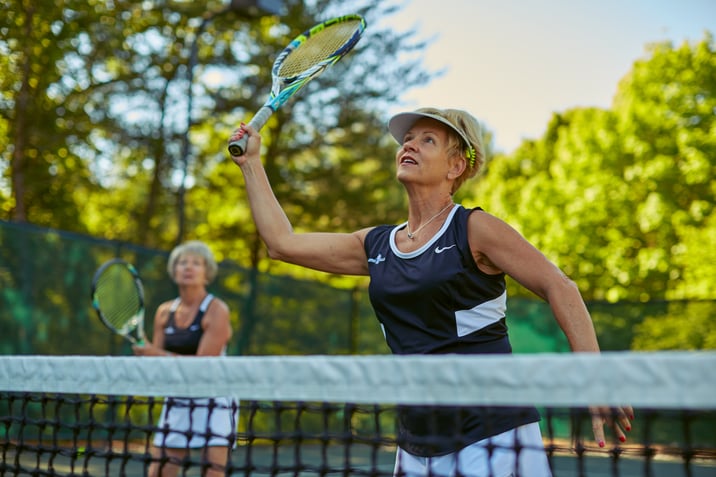 Champion Hills features two fully-lit Har-Tru courts that form the centerpiece of our tennis center where members enjoy a variety of competitive tournaments, league play and social events that keep them actively pelting the felt. Our tennis professional is on-hand for lessons to keep your game sharp.
5. Golf
Okay, hear us out on this one. Did you know that golfers who are walking, depending upon their weight, can burn between 300 and 600 calories an hour during their rounds? That's right, you can scorch up to 2,500 calories amid a four-to-four-and-a-half-hour round.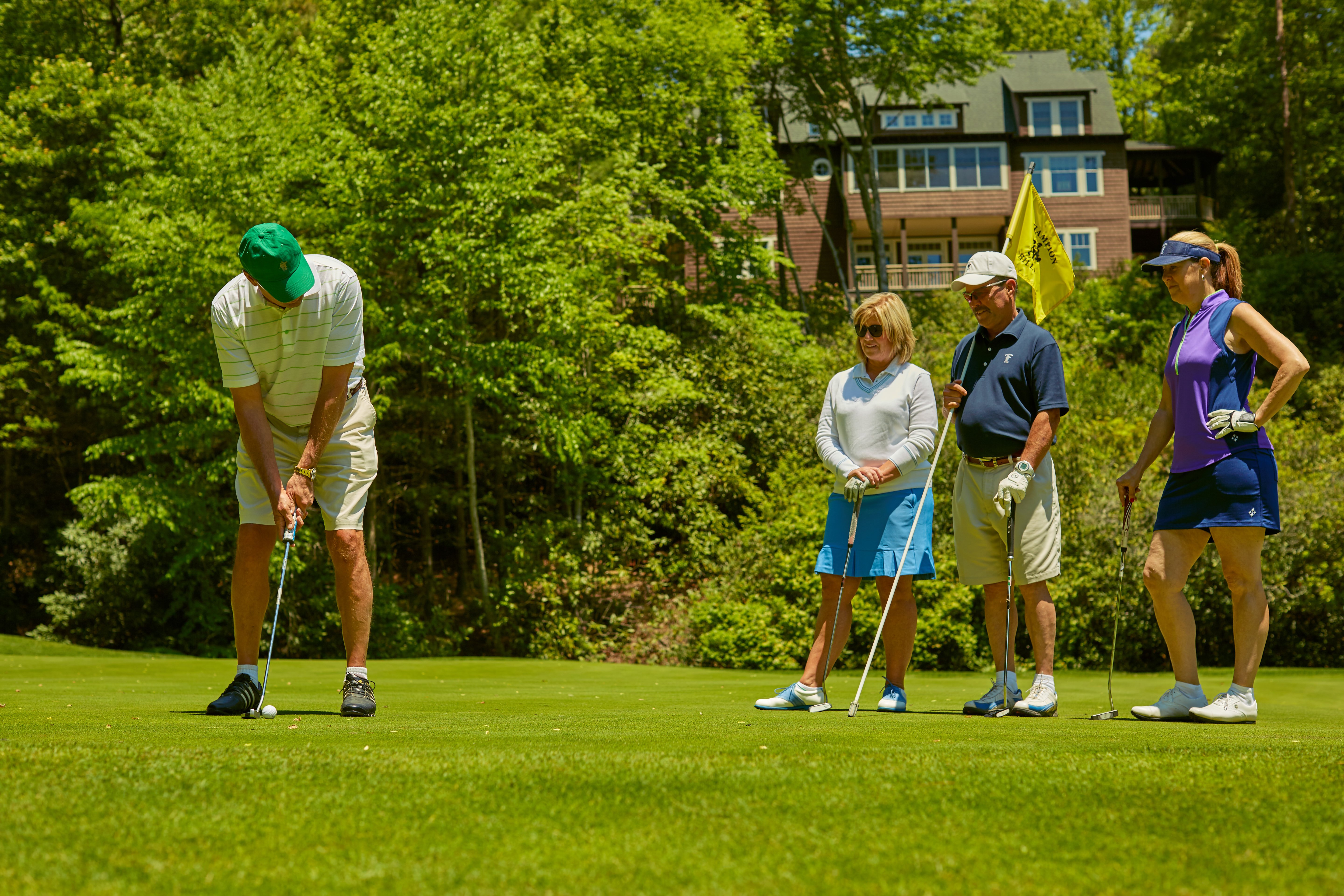 Due to the terrain and layout on our Tom Fazio-designed layout, most members take golf carts when they play. Still, there's a lot of walking involved over four hours, up and down hills. Golfers can easily burn 1,000 to 1,500 calories even playing with a cart.
6. Aquatics
Swimming and water-based exercises, like our Hydro Burn water aerobics class, provide an invigorating, low impact workout. What's more, there's little or no equipment required and just about anyone can take part (as with any activity, check with your doctor before getting started).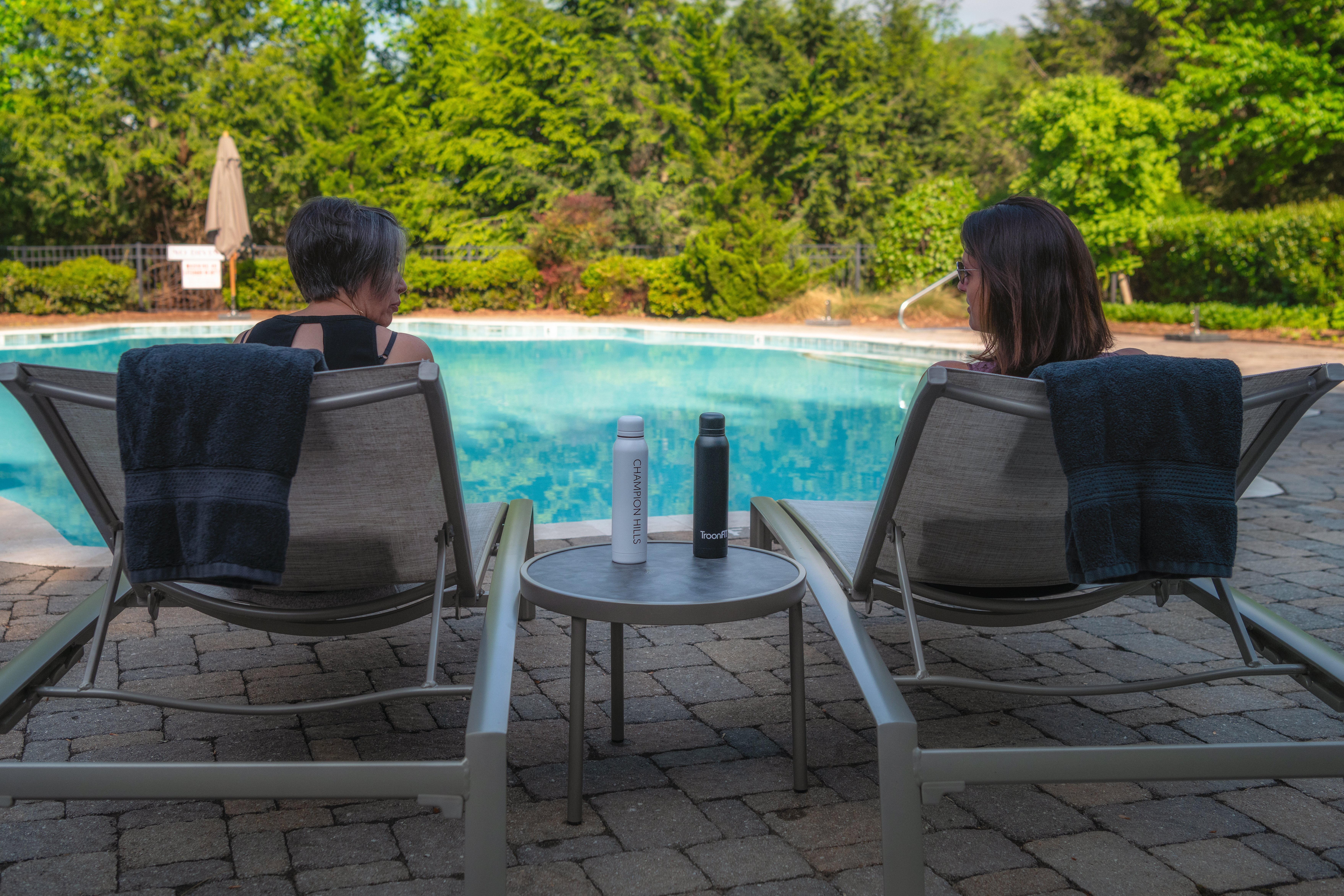 Champion Hills' heated pool is the ideal refuge from the stresses of everyday life, or simply a great place to begin or cap-off a spectacular day in Western North Carolina. And for recovery, our hydro spa is popular with members for relaxing their muscles post-workout.
7. Dining
When it comes to dining at Champion Hills, our members relish indulging in fine cuisine in the Mountain View Room or sampling local craft brews and wines along with casual fare at the Fazio Pub.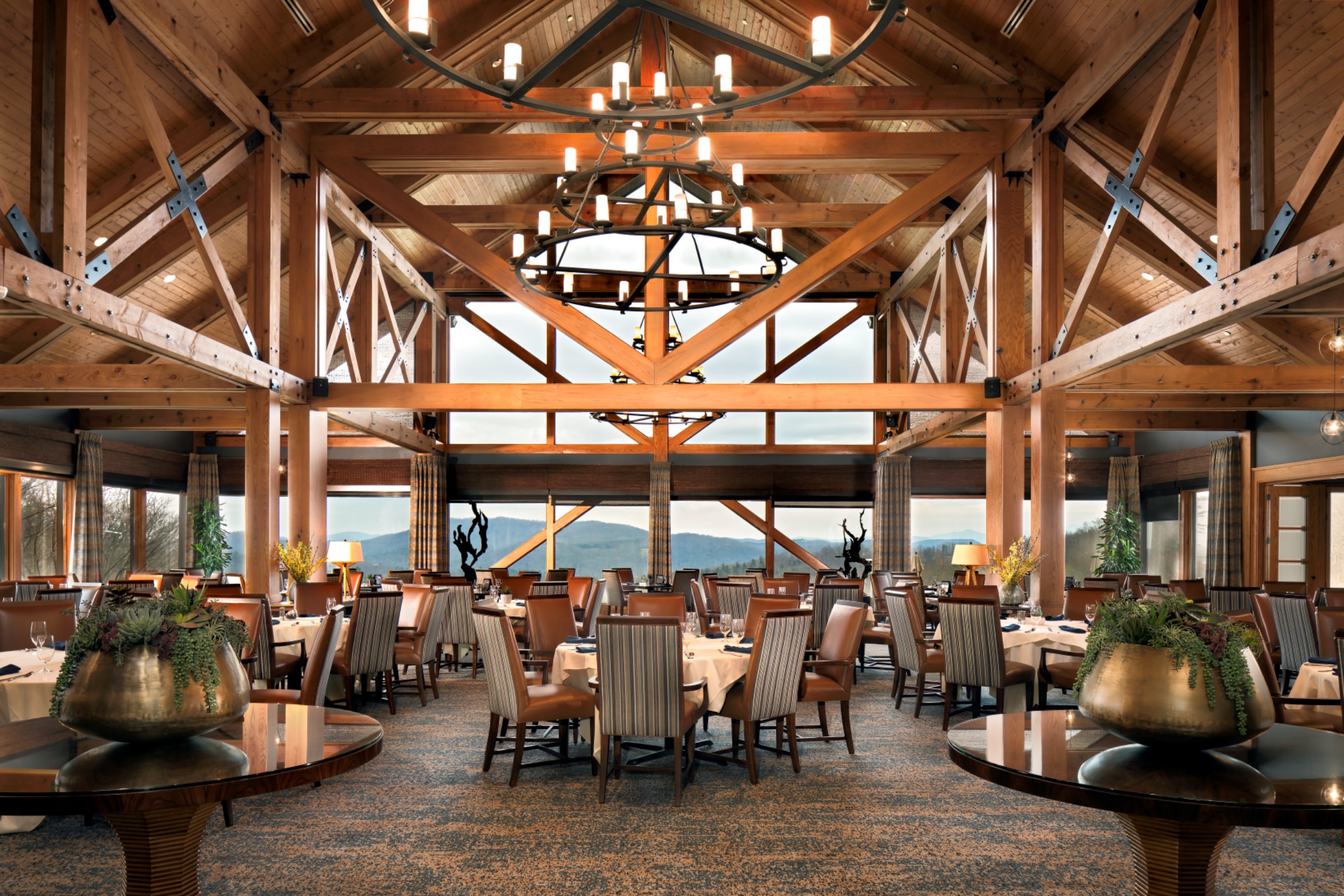 And our outstanding team of culinary experts are just as adept as creating and preparing healthy eating options, many of which are part of our TroonFIT menu, featuring items with 500 calories or less.
There are also healthy snacks available at the driving range comfort station for grab-and-go, perfect before or during a round of golf.
8. Air
It's basic, primal and for all of us, air the staff of life. But not all air is created equal. While Champion Hills is just 45-minutes from Asheville, it's hundreds of miles from the unavoidable air pollution of a major metropolitan area.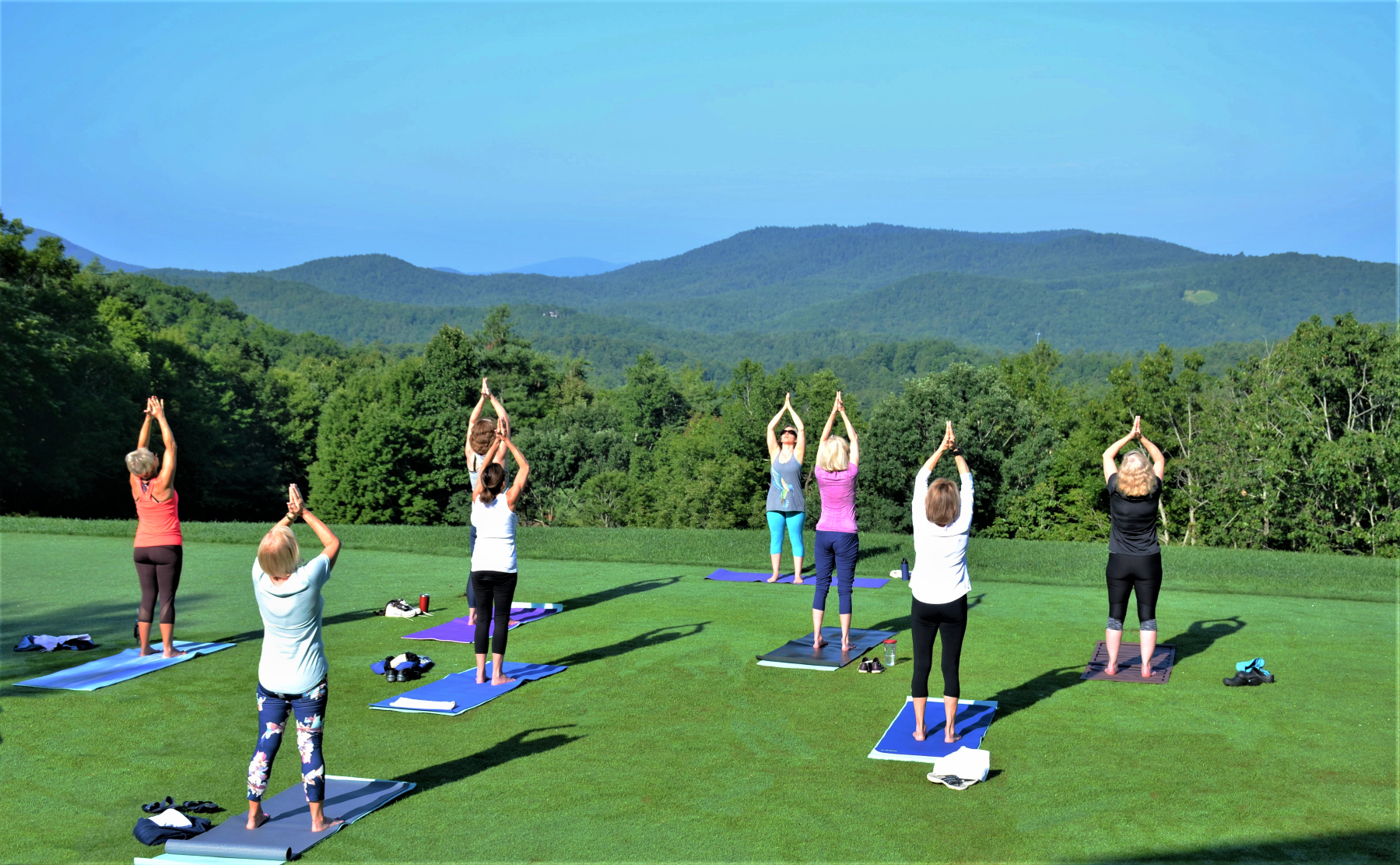 And the weather patterns and constant breezes of the Blue Ridge Mountains are like natural air purifiers. Indoors, Merv-12 air filters were recently installed in the clubhouse and Wellness Center, providing the most protection from airborne allergens.
To learn more, be sure to visit the Lifestyle section of the website for an overview of our wellness, food and wine offerings.