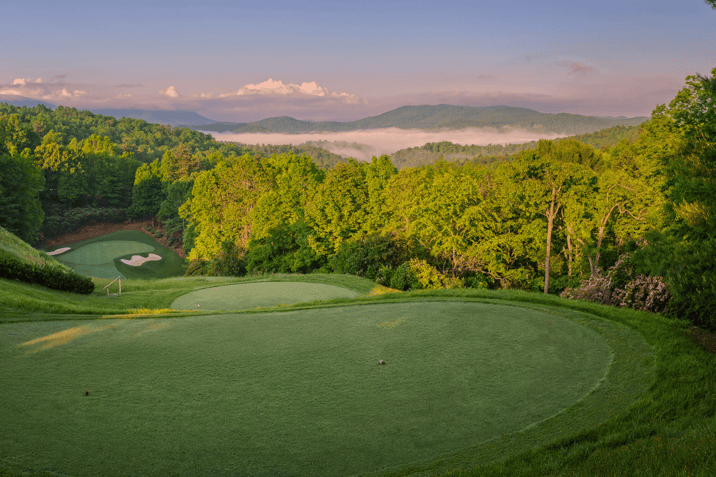 Not everyone gets to use their love of golf like Champion Hills members Scotty Wood and Brian Fitzgerald. As panelists for Golf Digest (better known as "raters"), Brian and Scotty have seen and played some of the best golf courses in the world – but more than that, they're two of the people who have the distinction of ranking them.
With one eye on the course and the other on the community, Scotty and Brian share similar but unique perspectives on life at Champion Hills – and neither can really be captured with numbers.
Distilling the Game into a Score
From the outside, being a golf course rater for the country's premier golf periodical sounds like an enviable gig. Neither Scotty nor Brian would deny that their love of golf is what brought them to the position, but they don't treat their responsibility like a game – even if it is all about the game.
"It's more work than most people think," Brian says. "It's a different way to look at a golf course than someone just going and playing it. We have to look at it from the perspectives of many different levels of player."
How might an expert approach a certain bunker? Would they go left to make the shot longer or go short over the bunker? Where would a novice golfer's mind go? They have to juggle all those considerations for each course and apply them to eight judging criteria: Shot values, challenge, layout, distinctiveness, aesthetics, conditioning, character, and fun. (That last one got added just a couple years ago in response to surveys from the National Golf Foundation that showed players were increasingly interested in the pure fun each course offered.)
A Code of Conduct guides raters in their roles, from scoring models to comparisons with other courses around the world. Both Scotty and Brian say that's incredibly important to their positions, as panelists, to be prepared to pay travel, greens fees, lodging, and more to evaluate each course as objectively as possible.
Scotty lays it out like this: "When I'm playing a course, I'm less concerned with what score I shoot and more concerned with those eight criteria. I've rated 225 courses based on eight criteria per course. That's 1800 numeric scores," he says, doing a quick bit of math. "In all that time, I've never given out a 10 (absolutely perfect), and I've never given out a 1 (unacceptable to very poor)."
It's in that translation from feeling to score that raters like Brian and Scotty rely on their experience as golfers and their lifelong love of the game. For example, in his five years as a rater, Brian has learned to "approach each course holistically," not just a series of holes.
And Scotty? "I was a rater for six years before I first played Champion Hills," he says. "I guess I brought whatever [judging] method I use with me."
How Champion Hills Compares
Scotty plays Champion Hills three or four times a week. On top of that, he's always been a fan of Tom Fazio, whose architectural skills are on display in every inch of the Champion Hills course – so it's safe to say he's got a good bit of perspective on his home course.
"[Champion Hills] is carved out of a gorgeous forest in the mountains," he says. "It's somewhat unique in that it's a course with a lot of terrain… When I play it, I have a tendency to compare it to other courses in North Carolina and around the world."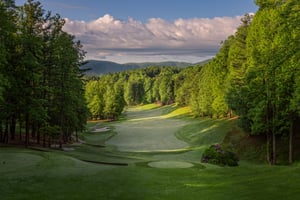 Scotty says playing Champion Hills reminds him of courses in Scotland, Chicago, New York, California, and even the one he grew up on, pulling comparisons from the 225 courses he's played in 35 states and eight countries including the US. He also notes that none of those comparisons really do Champion Hills justice.
The course is obviously an eye-catching selling point of Champion Hills, but he says that while the course appealed to him as a golfer, the community appealed to him as someone looking to join a real community. "One of the things that attracted me and my wife to Champion Hills were the people playing it," he says. "In the fun department and the friends department, Champion Hills is still unmatched."
Brian agrees, and so do golfers: Champion Hills was ranked Golf Digest's #1 year-round course in Western North Carolina and places in the top 20 courses in the state. When we asked Scotty how becoming a rater changed his perspective on Champion Hills, he says it helped him identify a certain intangibility – one both Brian and Scotty attribute to its unique blend of natural setting, variety, maintenance, ambiance, and community.
"Champion Hills scores high in memorability," Brian notes. He says it's like the intangibles of Champion Hills feed into the more measurable aspects of the course, and "memorability" is one way to measure it from Brian's holistic viewpoint. "If you play Champion Hills, you don't forget it."