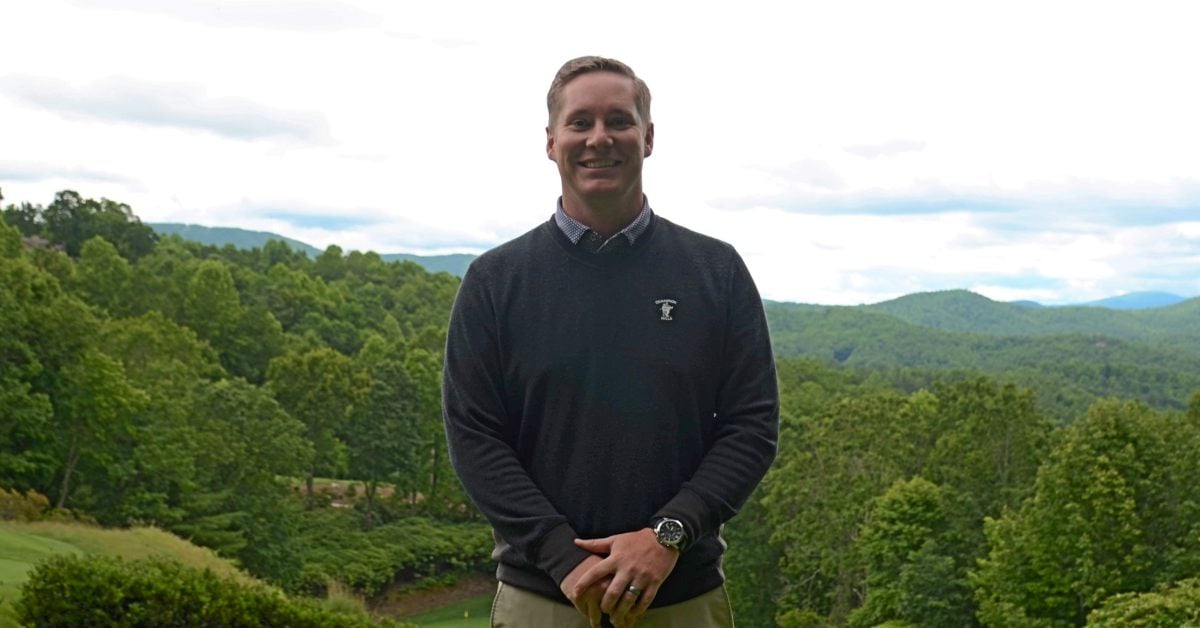 You might've seen Scooter Buhrman on the course when he was Lead Golf Assistant at Champion Hills, meeting and greeting members and attending to their needs while they enjoyed Tom Fazio's Mountain Masterpiece. Maybe you've met him since he assumed the title of Golf Professional after Mike Steele's departure in February 2020. (Scooter says Mike "taught [him] everything.")
Scooter has made it a point to be seen, wherever you see him. In fact, he says it's one of the biggest parts of his job and his own personal goal to make himself as visible as possible to the Champion Hills community, from tour groups to new members and long-time residents. Get to know Scooter a little better with our quick Q&A.
Did you grow up with golf?
"Yeah – in fact, my grandfather put a club in my hands when I was three years old, and that's when I started hitting golf balls behind the school. When I was seven, my family joined Gates Four Golf and Country Club in Fayetteville, where I was born and raised. Me and five or six kids in the neighborhood, that was all we did from sunup to sundown. I played a bunch of other sports, too – I just loved to be outside. When I got into high school and college, of course, it got serious, but it's always been a great way to get to meet new people. I rarely played by myself."
What are some of your proudest golf accomplishments?
"In high school, I managed to make state championships as an individual and with the team… I had a few pretty good finishes in junior golf tournaments. Then I started getting contacted by college golf programs, and when I earned a golf scholarship to Longwood University in Farmville, VA, a Division I university, that's when I really started to think I might be able to do something with golf."
What drew you to Champion Hills?
"I'd been trying to get into the private golf sector for some time when I played Champion Hills with some friends five months before I started working here. I'd never heard of the place, but I fell in love with the course! I met the Golf Professional at that time, and I saw that Champion Hills was looking for a Lead Assistant a few months later. I was lucky enough to get the job."
How and when might golfers at Champion Hills run into you?
"We're running the entire golf operation, from checking members in and bag drop to lessons, clinics, and merchandising in the golf shop. My main goal is to be visible, to be out there. I try to get out where I can be with the members, whether that's in the golf shop, on the first tee, or driving the course. To me, the golf business is about building relationships, with members or with guests. We love to get out and play with members, and they love to see us teaching clinics or just enjoying the course. We want to provide them the best golf experience they can have at Champion Hills."
What do you think you bring to your role at Champion Hills?
"I'm very personable and can relate to a lot of people. I love meeting, getting out and talking to everyone. The golf experience here is top-notch, but it's the people. The members are a huge part of what makes Champion Hills a special place to play. We have members who play five and six days a week. Regardless of how often our members play, I take every opportunity I can to visit with them and make sure the course is set up to provide variety every time they get on the course."
How do you envision the future of golf at Champion Hills? What have you got in store?
"I'm always looking for ways to ramp up the service we give to members – new amenities or clinics or whatever it may be. We need to exceed their expectations every day. On the course and at the club, we need to make memorable moments for them."
Want to know more about membership and golf at Champion Hills? Download the Champion Hills Guide today.