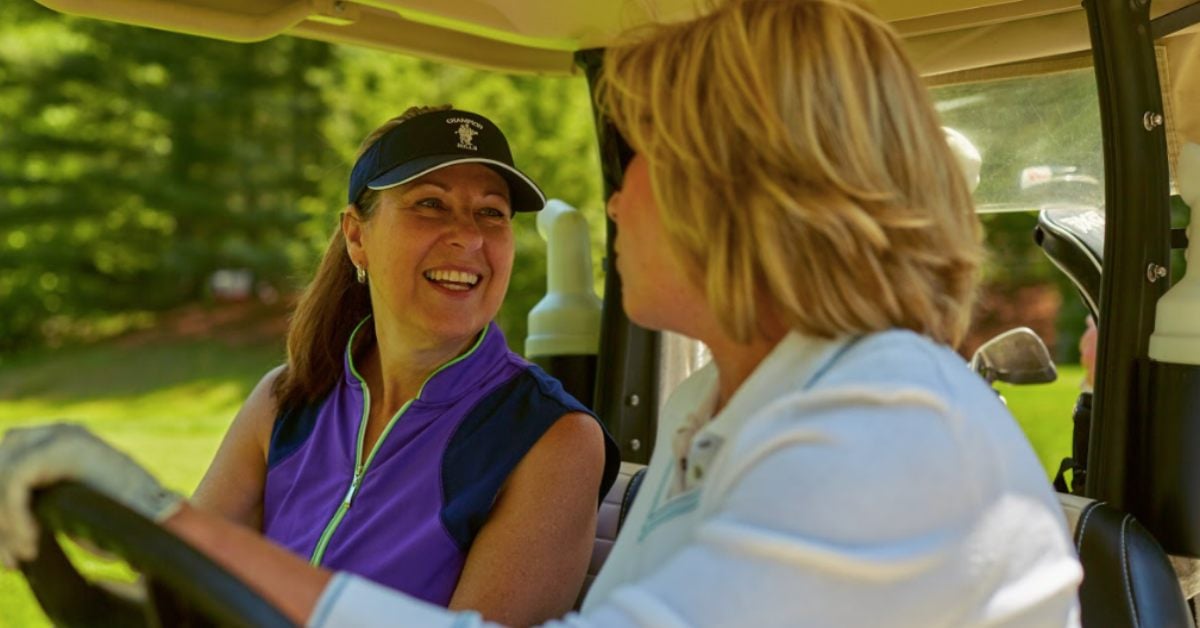 Choosing a golf community is a big decision. Each club and community are different, but to find the best places to retire in North Carolina, you'll find yourself asking some of the same questions over and over: What are the people like? How long has the club been around? Who runs the club? Can my family visit?
We get a lot of questions like that. Here are some of the questions we get most often, from the size of our community to the best and nearest attractions.
What's the history of Champion Hills?
The story of Champion Hills starts in 1987 with one vision, two men, and 524 acres in Hendersonville. When we say the course is the heart of Champion Hills, we really mean it: Legendary golf course designer Tom Fazio and his real estate partner worked together to finish construction of the now-seminal Mountain Masterpiece before any real estate was developed on the land. The Mountain Masterpiece was designed, constructed, and perfected exactly the way the Blue Ridge landscape spoke to him.
1994 saw the completion of the clubhouse and the first homes at Champion Hills. In 2000, we transitioned from a developer to a member-owned club, allowing our members and residents the ability to mold the future of Champion Hills through our Club and Property Owners Associations.
Since then, we've expanded to 727 acres with nearly 500 home sites. We're constantly monitoring our Club in response to our members' needs, including redesigning our driving range in 2016, adding an event lawn in 2017, updating our state-of-the-art wellness center in 2018, and refreshing our club's furniture and color palette 2019.
How hard is it to get a golf game on the Mountain Masterpiece?
Not hard at all! You can arrange your own game if you like – otherwise, our pro shop sets up group play, so you don't have to worry about knowing enough people to play in a group. Just sign up and we'll match you up with players of your skill level.
What are the people of Champion Hills like?
They're warm, they're friendly, and they genuinely care about their club and their neighbors. We could say so much more about our community, but to put it simply, they're like family. "Without question, these are some of the most wonderful, caring and giving people I've ever met," says Heather Myers, CMP, Director of Membership & Marketing. "They are a true inspiration the way they rally around each other, the community and the staff in times of need."
Meet some of our members with video interviews on our Lifestyle page.
What percentage of residents stay at Champion Hills year-round?
We're proud to say that 62 percent of our resident members call Champion Hills home 365 days a year. With a strong year-round community, there's always something to do and people to do it with.
How many homes are in the Champion Hills community?
As of this writing, there are 355 homes at Champion Hills, with a few under construction. That number doesn't include our available home sites, where you can build the home of your dreams.
My spouse doesn't golf. What is there for them to do at Champion Hills?
Plenty! We have a booming group exercise program, a wide variety of card play, an active tennis group, book club, hiking, ladies' night out, men's night out, cooking classes, bocce, off-site events and excursions, and so much more. If there's something you love to do, we'll connect you with other community members who love it, too.
What does it mean to be member-owned?
Champion Hills is proud to be a member-owned club. Because every member is given a voice during every decision we make as a staff, we move forward with our community's best life in mind. Every voice counts.
Where's the closest…
Grocery store/pharmacy? Publix, Ingles, Fresh Market, Harris Teeter, CVS, and Walgreens are an eight minute drive from Champion Hills. Only a couple minutes beyond that, there's a food co-op when you want to sample Western North Carolina's fresh local foods.
Entertainment, culture, and shopping? Flat Rock Playhouse, live music, and a charming historic downtown Hendersonville are just minutes away. Big-name concerts and national events are waiting in Asheville and Greenville, both less than an hour away. The famous Brevard Music Center is also a favorite venue of many of our residents.
Dining and drinking? The curated cuisine options in the Champion Hills kitchen, the Fazio Pub, and the Mountain View Room are our members' go-to for a variety of flavors, casual social time, and impressive views. Hendersonville hosts incredible options for all palates, from upscale to diner to international cuisine – the only hard part is picking which great place to try next.
Airport? We're 30 minutes from Asheville Regional Airport, an hour from Greenville-Spartanburg International Airport, and 2 hours from Charlotte Douglas International Airport.
Hospital? We're incredibly grateful to have such a strong healthcare system in our area. Hendersonville's Pardee Hospital is 8 minutes away, AdventHealth Hendersonville is about 20 minutes away, and Mission Health is about 45 minutes away. Additionally, the Champion Hills community features two landing spots for medical helicopters in case of a major emergency
Fire Department? Valley Hill Fire & Rescue is 3.5 miles away in Hendersonville and can be onsite in minutes to respond to emergencies.
What's the weather like in Hendersonville?
Perfect! We experience the best parts of all four seasons without the extreme temperatures. Spring is gorgeous, hovering in the 60s; Summers here are warm days, cool nights and early mornings (few bugs and low humidity at our elevation); Fall is a resident favorite, with the comfortable days, cool breezes, and beautiful mountain foliage on full display; Winter lows are milder than other areas of the country, with lows in the 30s and highs in the 50s.
What does it mean to be managed by Troon?
Our partnership with Troon lets us focus on serving our community and enhancing the value of membership. Troon handles the day-to-day, ensuring membership receives streamlined, consistently excellent experience. On top of that, being a Troon-managed club means our members receive Troon Privé benefits, like reciprocal club membership and access to hundreds of golf courses around the world.
What is there for pet owners to do at Champion Hills?
We love pets! Our private roads and common areas, including parks and paved paths that are walkable when carts aren't using them, are a great place to walk your dogs. We make room for our furry friends in the community with pet-friendly patios, pet-centric events, and more. There are also dog parks near our community, plus DuPont and Holmes National Forest (about 10 minutes away).
How do I become a member?
The first step is to download the Champion Hills Guide! Then we'll be in touch with information about touring, member sponsorship, and everything else you need to find your place in our wonderful community.