If you ask 100 Champion Hills members about their typical day, you might get 100 answers. With charming downtown Hendersonville just minutes away, and the Blue Ridge Mountains at their doorstep, the possibilities are limitless.
But for the majority of members, you can bet that golf will make its way onto the daily agenda. Champion Hills' Tom Fazio-designed mountain masterpiece is the undeniable centerpiece of this luxury community tucked between Asheville, N.C. and Greenville, S.C.
And that's the way Fazio always intended it to be. Arguably the most influential golf course architect of the modern era with more courses on "Top100" and "Best of" lists than any living designer, Fazio relocated his family to Western North Carolina in the late 80s and opened his office at 401 N. Main St. in Hendersonville.

In setting out to design Champion Hills' layout in the late 80s, he loves to tell the story of how his entire crew asked to work on the project. Normally they'd be spread out among several states, or even countries. But there was something about the setting that stirred their collective souls.
"As we are building the golf course these views are showing up all over and the mountains," Fazio says. "The quality of the golf is second to none. It's hard to have a favorite hole because this property has a lot of variety to it. It has a lot of different angles, views, elevations, backdrops and settings. They all look different."
It's this inherent variety that produces an infinite mix of golf experiences. Fazio's brilliant routing and skillful shaping can yield a different course each time members play the course. And Champion Hills' 200-plus golf members will attest, it's also the course's eminent playability that keeps them coming back for more.
"It doesn't play like a traditional mountain course," says General Manager and Chief Operating Officer Dana Schultz, PGA. "It's very playable. There are only four uphill shots on the whole course. It looks challenging but plays easy."
According to Schultz, the course's playability is a major reason the club has so many female members, 120 at last count. There are five sets of tees rated for women (most courses have one or two), including "combo" tees, and only once forced carry from the forward tees (on a par 3).
"A lot of ladies who didn't play before tried our 'Get Into Golf' program, and now they feel comfortable playing," Schultz says. "It's a huge selling point I see with couples moving here."
There are plenty of opportunities for couples to play golf together, or, if they prefer a little "girl" or "guy" time, join a men's or women's league or casual group. But make no mistake, as playable as Fazio's Mountain Masterpiece is, it's fully capable of holding its own against low handicap players.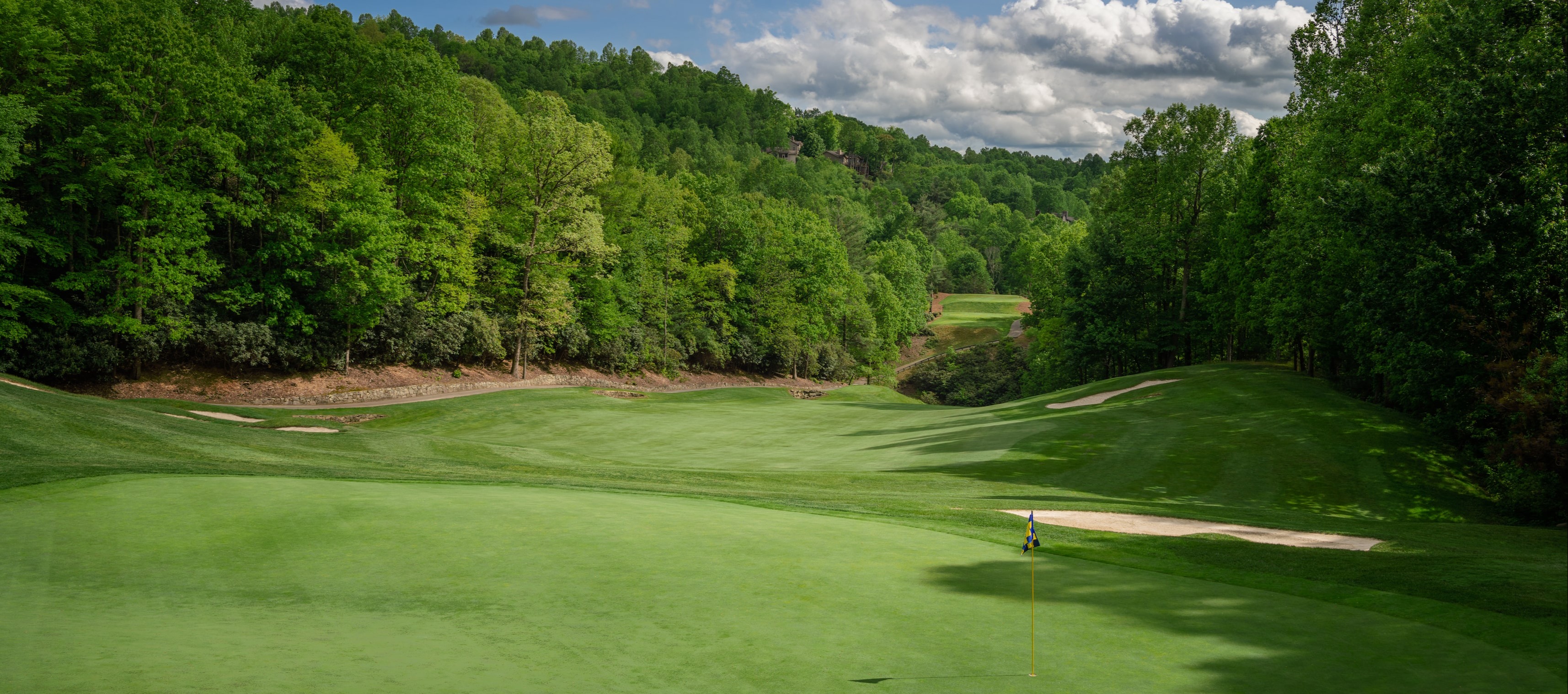 "This golf course is special," says Marshall Johnson, a Champion Hills golf member and resident from Baltimore who lives here with his wife, Michael. "It's not long in yardage (6,500 yards) but it plays much longer than the yardage indicates on the scorecard. If you like fast greens you really have to study in order to be able to read, these greens are some of the best greens I've ever played on, and I've gotten to play Augusta. I'd say these greens are right there with Augusta."
And while the greens beguile members no matter how often they play, it's the views from Fazio's exquisitely-crafted tee boxes that inspire and delight. For example, the 196-yard par-3 ninth hole drops 125 feet from tee to green and sits adjacent to the clubhouse. And there's the 322-yard par-4 15th hole, featuring a boulder-lined stream trickling down its left side. The same stream cuts back in front of the green complex, which is tucked deftly into the hillside.
"If you were trying to pick the strongest hole on the front nine it would arguably be No. 6, which is the No. 1 handicap, and it plays with a slightly elevated tee that plays uphill," Fazio says. "Then you get to No. 9 with its drop from tee to green with the mountains in the background and the setting and you say 'well, this obviously has to be the signature hole.' When you get to the back nine the views get even more dramatic."
A True Golf Community
"I look at Champion Hills as a mountain golf community more than a Country Club," says Todd Headley, who along with his wife Julie moved to Champion Hills from the Washington D.C. area in 2015. "It's a blend of people from all over the country, from all different careers and the spectrum in terms of political views and religion. It's such a great mix of fun people who are enjoying retirement."
While a number of Champion Hills residents are retired, many are still actively working either full- or part-time. Moreover, with the ability to work remotely amid the "new normal," Champion Hills is seeing an influx of new resident-members in their mid to late 50s still going strong in their careers.

"That is one of the really cool things about Champion Hills, it's not your traditional retirement community," says Director of Membership and Marketing Heather Myers. "We have younger couples moving in and the average age of our national members is 55. It really makes for a diverse mix, and a synergy and culture you just won't find anywhere else in this market."
While Champion Hills, the community, is described in many ways by many residents, the one word that continually comes up is "welcoming." This feeling of belonging and acceptance starts as soon as one turns into the community, where the lack of a gate or guardhouse immediately signals inclusion. Residents, instead, have peace of mind in knowing there's roving 24-hour-a-day on-site security.
After entering the community at around 2,300 feet of elevation, first-time visitors wend their way uphill past expertly manicured yards and through thick strands of Carolina hardwoods to Champion Hills' mountain lodge-style clubhouse. The epicenter of the community, the clubhouse features an expansive view of the nearby Blue Ridge Mountains, a cathartic vista that members never grow tired of.

If the clubhouse is the lifeblood, then the Fazio Pub is surely the heart. Recently reimagined by the Design Gallery, the casual dining restaurant and bar was updated with new finishes, fixtures, furniture and a wine room with community feasting table. Two new bars were created, one for martinis and the other a sports bar with flat screen TVs and local craft beers on tap.
Epicurean pursuits must be balanced with health and wellness for all around good living, and just steps away from clubhouse dining is Champion Hills' Wellness Center and Pool Complex. Replete with the latest cardio and strength training equipment, it houses a spacious room for yoga, spin, Pilates and other group classes. Two lit, Har-Tru courts await tennis lovers, and a quaint, outdoor pool beckons members to relax and stay a while. A hydro spa is also available and popular with members for relaxing their muscles post-workout.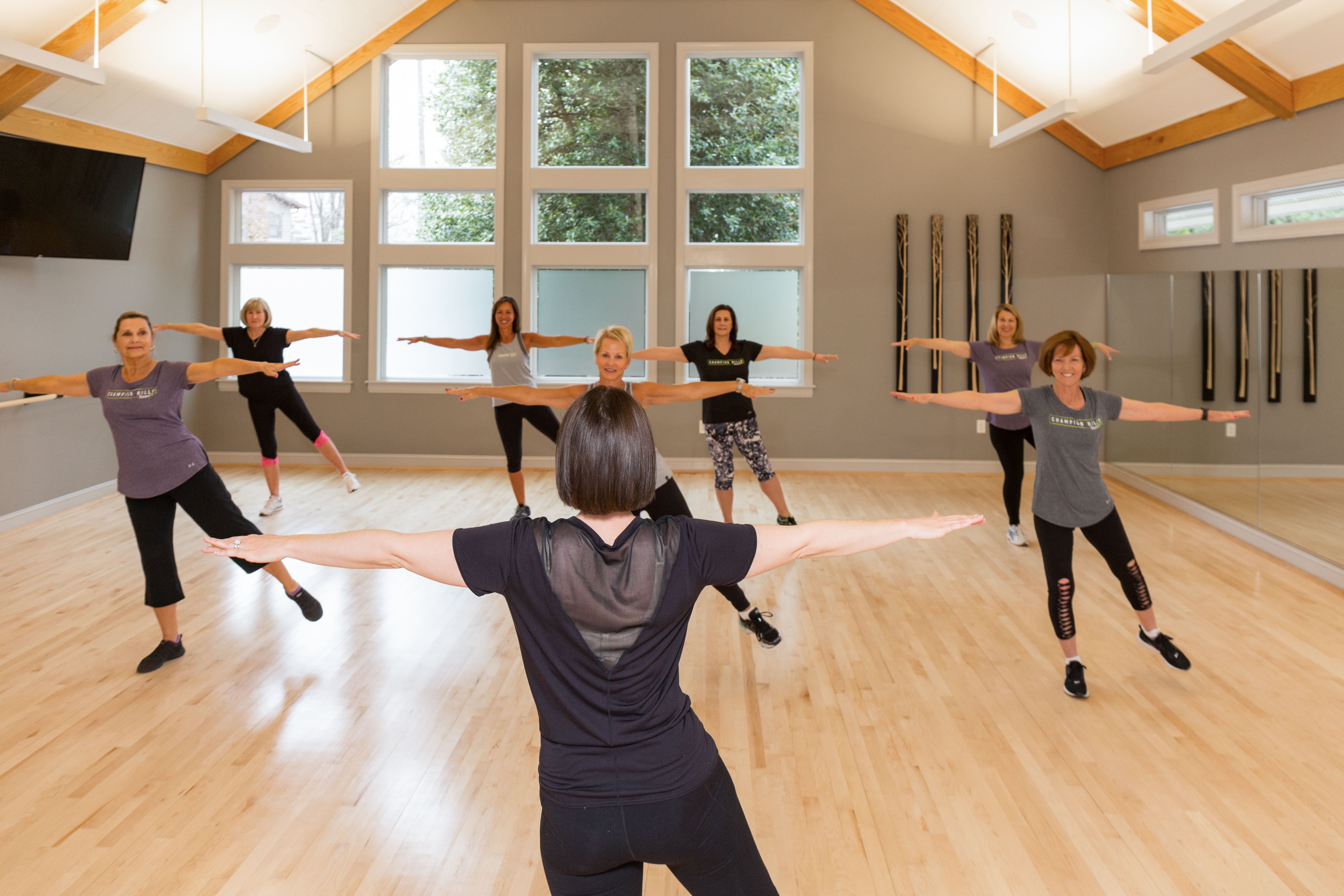 For those who want to combine their love of nature and fitness, there are more than 18 miles of hiking trails on property. In 2017, Champion Hills received Real Estate Scorecard's "Bliss Award" for "Best Hiking Community of the Year," with trails ranging from 0.3 to 4.5 miles. Cycling enthusiasts will enjoy the Ride Kanuga Mountain Bike Park, a brand new, top-of-the-line trail destination founded by world champion downhill racer Neko Mulally just a few minutes away.
Enviable Western N.C. Location
Todd Headley had an old school, but effective, way of zeroing in on the perfect relocation spot for he and Julie. He began his search with all of Western North Carolina due to his love of several outdoor activities. He eventually drew a circle around Asheville to the north, Brevard to the west and Lake Lure to the east.
"I kept looking at communities and kept drawing the circle tighter and tighter until it was pretty obvious this area outside of Hendersonville was the best location and Champion Hills in particular was the best community for us," he says.
Michael Johnson, also a lover of all things outdoors, was blown away by the surrounding National and State Forests, as well as the cultural offerings in Hendersonville and neighboring Flat Rock to the south.
"The surrounding lakes are beautiful, hiking is beautiful, there's Carl Sandburg, and you've got Pisgah Forest, DuPont Forest," she says. "[There are] numerous outside activities to partake in and what's offered here at Champion Hills is amazing."
Champion Hills residents also love the community's proximity to two of the most highly-rated small cities in the U.S., aforementioned Asheville and Greenville. Greenville, an hour south down U.S. 25, boasts an award-winning downtown with picturesque Fall Park, Peace Center for the performing arts and Bon Secours Wellness Arena for concerts and sporting events.

Greenville County's famed 22-mile Swamp Rabbit Trail for walking, running and biking runs from the quaint town of Travelers Rest south through Furman University and downtown to Conestee Park. Greenville-Spartanburg International Airport (GSP) offers direct flights to 17 destinations via five major airlines. Parking, and getting in and out of GSP, is a breeze.
Asheville, 45 minutes north of Champion Hills, is a culinary, cultural and arts hub, and also home to several craft and microbreweries. Highland Brewing Company and Green Man Brewery are the elder statesmen of the bunch, and West Coast behemoths Sierra Nevada (in Henderson County), New Belgium and Oskar Blues have all opened East Coast headquarters around Asheville in recent years.
Situated on the Henderson-Buncombe County line, Asheville Regional Airport (AVL) is only minutes away from Champion Hills and offers direct flights to several major cities on four major airlines. AVL is the first North Carolina airport to receive an industry-approved global heath accreditation from Airports Council International.
Real Estate Options Abound
Champion Hills boasts a broad array of residential options – luxury homes, low maintenance cottages, lock-and-leave villas and a limited number of building lots – suiting a wide variety of buyers. With the housing supply near a two-decade low, buyers appreciate being able to source a move-in ready home that checks all the boxes.
With a diverse mix of resale homes, buyers can also find the mix of floorplan, finishes and outdoor amenities they seek. If not, money saved by going with an existing resale can be invested in renovations and upgrades. On the other hand, those retaining their current residence have ample time to engage a builder for a custom-built home.
New residents are often pleasantly surprised by how much home they can afford in one of Western North Carolina's most exclusive mountain communities. Building lots typically range from .5 up to 1.5 acres, with prices from $50,000 to $300,000. Move-in ready luxury residences range from $500,000 to $3 million featuring golf course, mountain and wooded views.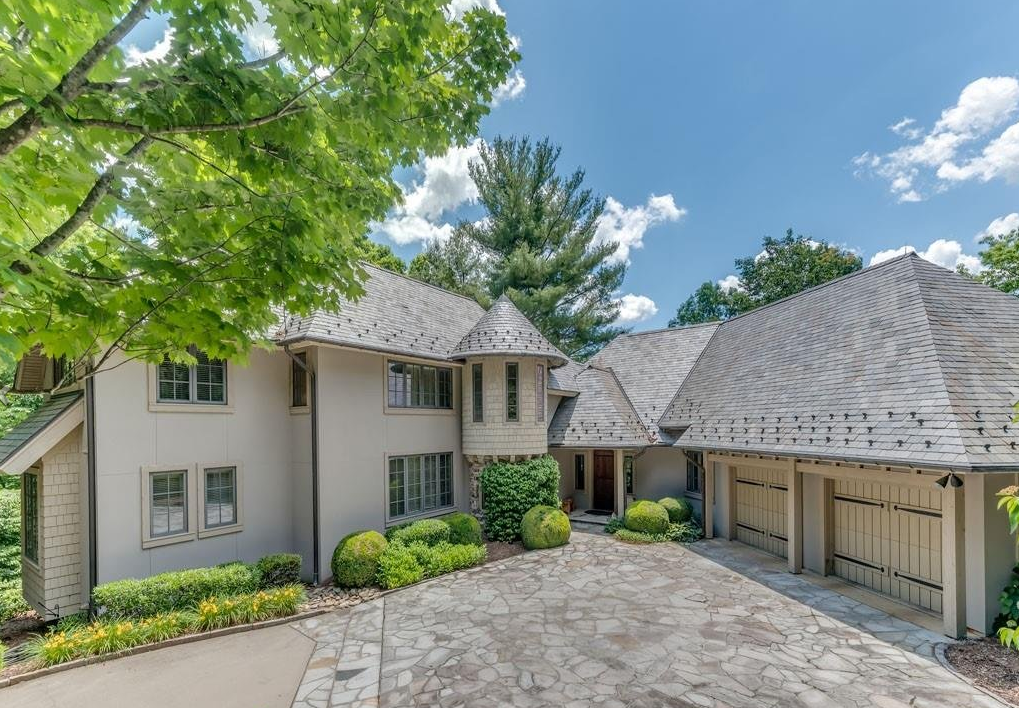 "Our buyers appreciate that Champion Hills is a mature community with infrastructure and amenities already in place," says Mary Kay Buhrke, a member, resident and Realtor with Beverly-Hanks' Champion Hills sales team. "We are like the perfect balance of being a high-end community with a casual lifestyle. The people here are amazing.
Are you ready to schedule your tour of Champion Hills? Fill out our simple contact form and we'll be in touch, shortly.